Germany should really not be surprised by their earliest World Cup exit in 80 years.
The four-time winners should have seen the red flags and heeded the warnings after failing to hit top form for almost a year prior to the tournament in Russia.
But a combination of over-confidence, stubbornness and recklessness turned into a toxic mix in their Group F matches to send them packing in the first round with just one win from three games.
What was once a scoring machine, playing indomitable attacking football, was reduced in Russia to a scrappy motley crew, lacking unity and unable to operate as a team.
Obviously, most responsibility lies with coach Joachim Loew, who never paid proper attention to the signs that were already visible last year.
The 2014 World Cup winners scooped the 2017 Confederations Cup and wrapped up their perfect qualification after winning 10 out of 10 matches back in October.
Loew was boasting about his deep squad, a pool of at least three dozen players to choose from, but after those successes things gradually started to turn sour.
The Germans drew with England, France and Spain in friendly internationals before being beaten by Brazil in March. They then lost to Austria in their penultimate warmup game and only narrowly beat Saudi Arabia before departing for Russia.
Loew continually experimented with his lineup and system, insisting German success was based exactly on accepting that things can go wrong in friendly matches.
He remained confident that all would be well by the time they landed in Russia.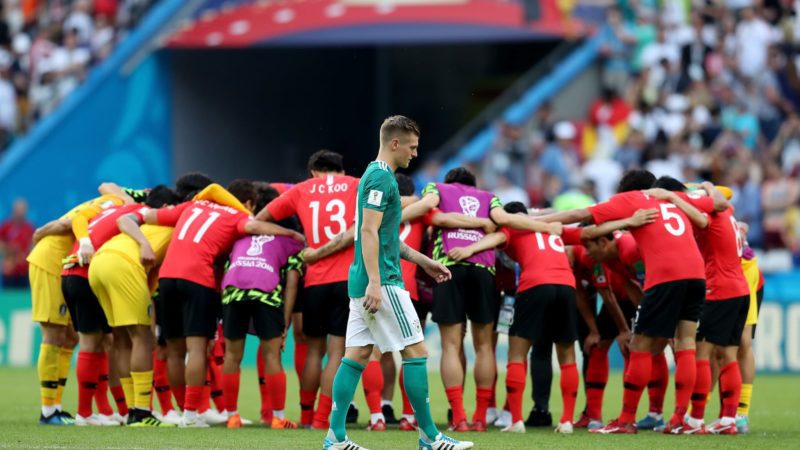 CURIOUS SELECTION
But there were issues with his selection as well.
Inexplicably, he left out the Premier League young player of the year Leroy Sane, arguably the most talented German player of his generation, and decided to put his faith in aging forward Mario Gomez and out-of-form Sami Khedira and Mesut Ozil.
Ozil and team mate Ilkay Gundogan, who have Turkish roots, were also at the heart of a major pre-tournament controversy over a photo with Turkey's President Tayyip Erdogan.
Calls to leave them in Germany after they said Erdogan was "my president" were never seriously considered but the pair were clearly in no shape to play a top-level tournament as questions about the photo continued once in Russia.
Ozil, who was dropped after their opening loss to Mexico, returned in their final Group F game against South Korea but made no impact in the shock 2-0 loss.
Slow and error-prone, he lacked all of the creativity that had seen him become a household name in 2014.
But there were other problems too, with no natural leader and their unusual inability to score despite bagful of chances: they ended the tournament with just two goals in three games.
"It was a bit of over-confidence ahead of our opener against Mexico," Loew said. "We thought we could just press the button and win. That was not the case."
The 58-year-old, who took over in 2006 and recently signed a contract extension to 2022, accepted responsibility for the fiasco but it remains to be seen whether he will oversee the overhaul or make way for a successor.
Source: Reuters