With a number of their own players hitting free agency, Golden State's could have a few new contributors coming off the bench next season.
One such contributor could possibly be veteran shooting guard and three-time Sixth Man of the Year winner Jamal Crawford, who the team is reportedly targeting in free agency.
Crawford played for the Warriors during the 2008-2009 season and according to The Athletic's Marcus Thompson, Golden State wants him to re-join their team ten years later.
Last year, a vouching from stars Draymond Green and Kevin Durant, and coach Steve Kerr, led to the Warriors taking a flyer on Nick Young. This year, an even stronger push is being made for Jamal Crawford.
Green and Durant are already lobbying. Stephen Curry is on board. Some of the assistant coaches want him, too. It will be enough to get Myers on the phone with Crawford's agent, Aaron Goodwin, when the free agency period begins at 9 p.m. on Saturday.
A potent scorer, Crawford could be a good fit off the bench for the Warriors. Plus he is the type of player general manager Bob Myers wants to add this offseason.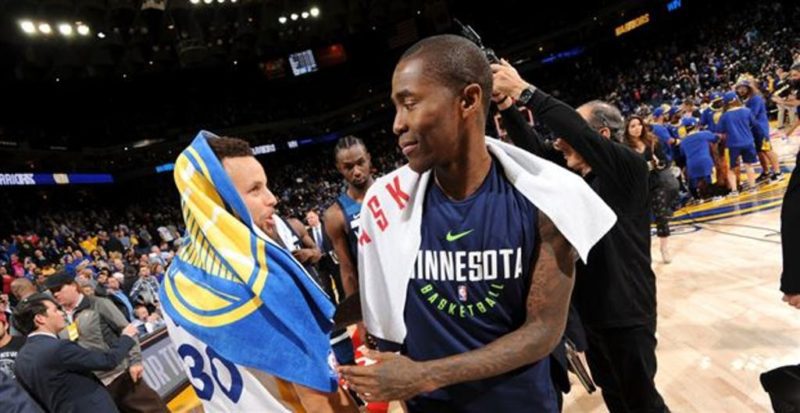 "We still need depth. We still would like to add maybe a young player or maybe one more veteran. But a lot of it will depend on what's available to us," Myers said, via the Bay Area News Group. "I don't know we'll be engaging in deals at the jump. I think we'll have to be a little bit more patient. But that's okay."
Interestingly enough, Crawford could have signed with the Warriors last season but he decided to sign with the Minnesota Timberwolves because he didn't want to chase after a championship.
"[The Timberwolves] showed they were serious, trying to get things done right away. I felt like the time is right. I felt like I could fit. At this point of my career, I could easily chase a championship. I'm not saying we won't compete, but it's not about that. I want to take the journey and go through the wars with these guys.
"The Cavs, they've been there. Those guys know what it's like to be in the Finals and win a championship. The Warriors, same deal. If I went there and let's say we happen to win, what's next? Sometimes it's more gratifying to help teams go from one point to another point," Crawford said, via The Star Tribune.
"That's the challenge. That's what so fun about it. What if you went to the movies and knew how it ended when the movie started? It's exciting because nobody really knows what we can be."
So has Crawford's attitude towards chasing after a championship changed since last season? Who knows for sure but as Thompson reports the Warriors clearly want him. And since Crawford is nearing the downside of his career, maybe the veteran guard has now changed his mind and would like to sign with the Warriors.
Source: 247 Sports